Metrifit LifeStyle Profiling
Day to day lifestyle stress has a major influence on athletic performance and overall well-being. Coaches are only with an athlete for a small portion of their day or week. They are often unaware of the lifestyle stressors that are affecting their athletes and team. Educating and empowering athletes to make informed decisions to improve their lifestyle can pay huge dividends on the playing field.
Our new lifestyle profiling functionality provides invaluable insight into the well-being of your team with clear visuals that help you make informed decisions to prepare your athletes for optimal performance.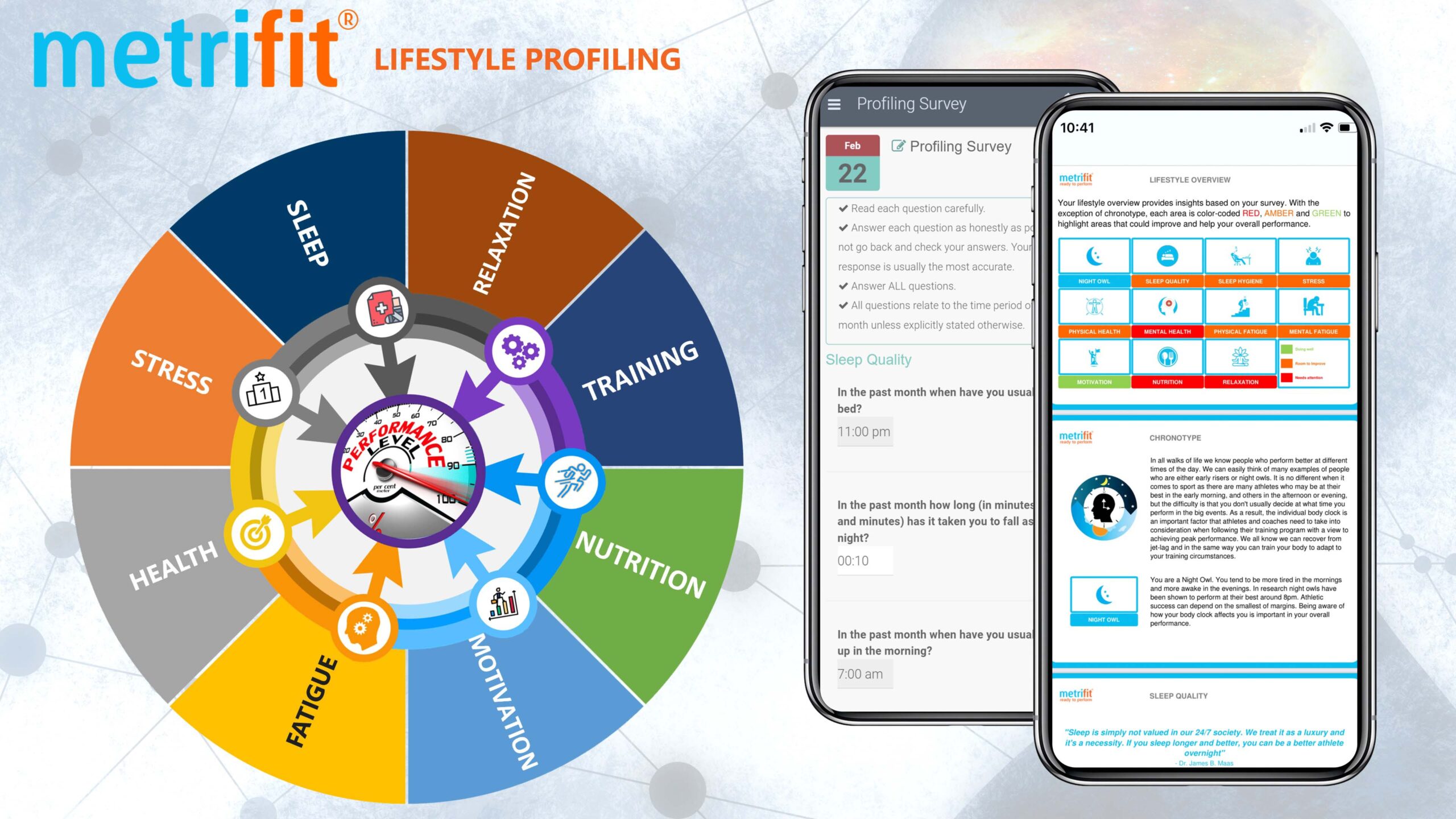 We make use of a number of validated questionnaires that have been used in research as well as some bespoke questions on nutrition habits, training knowledge and health and well-being covering key lifestyle areas such as:-
sleep quality
sleep hygiene
sleep duration
stress
physical health
mental health
physical and mental fatigue
motivation
nutrition
mindfulness
relaxation
relationships
positivity
training
competition
Athlete Profiling Report
The athlete completes the profiling questionnaire and is provided with a dynamic multi-page report. This report includes easy to read visuals with scoring information as well as feedback on the different areas. Educational infographics and suggestions are included to help show how improvement can be made. This report is individual to the athlete unless they choose to share it with their coach(es). Some sample pages are shown below.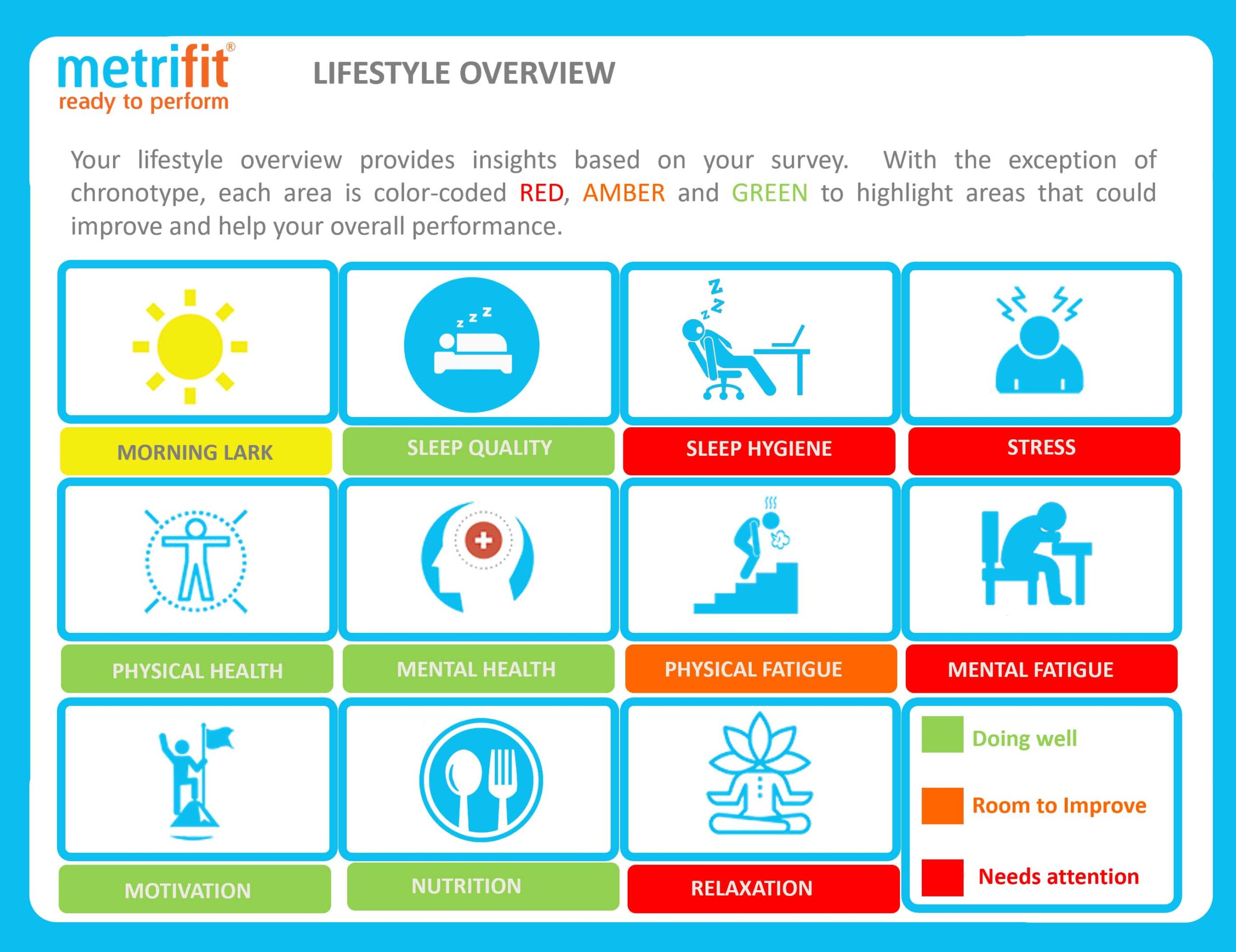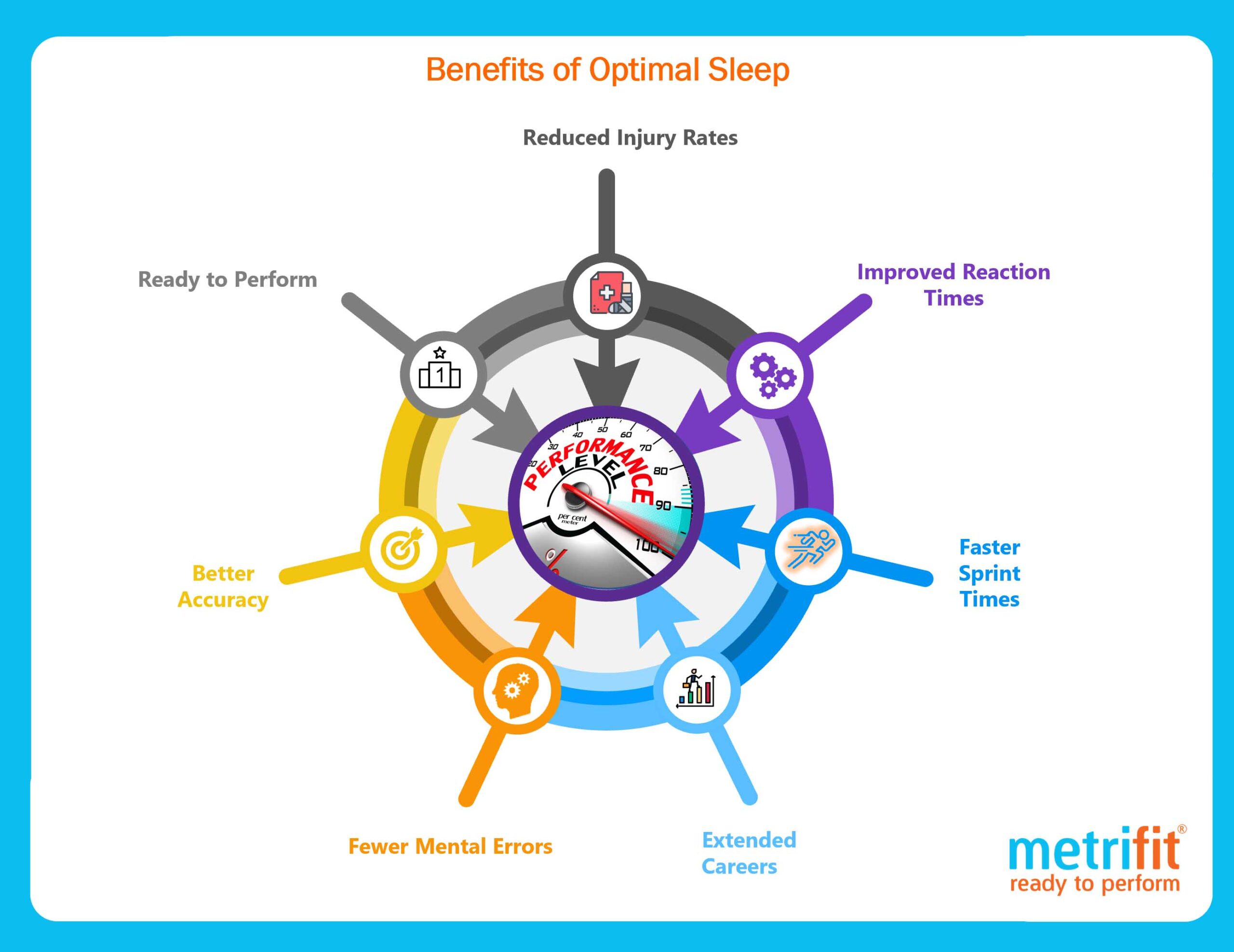 Coach Team Report
After your athletes have completed their survey a coach with administration rights can generate a profiling report for each applicable group. This report details summary information across the team for the key areas mentioned above. Information for each key area along with advice and areas to focus on is also included. This feedback can provide both athletes and coaches with invaluable information that can be used to educate and set goals/objectives to improve.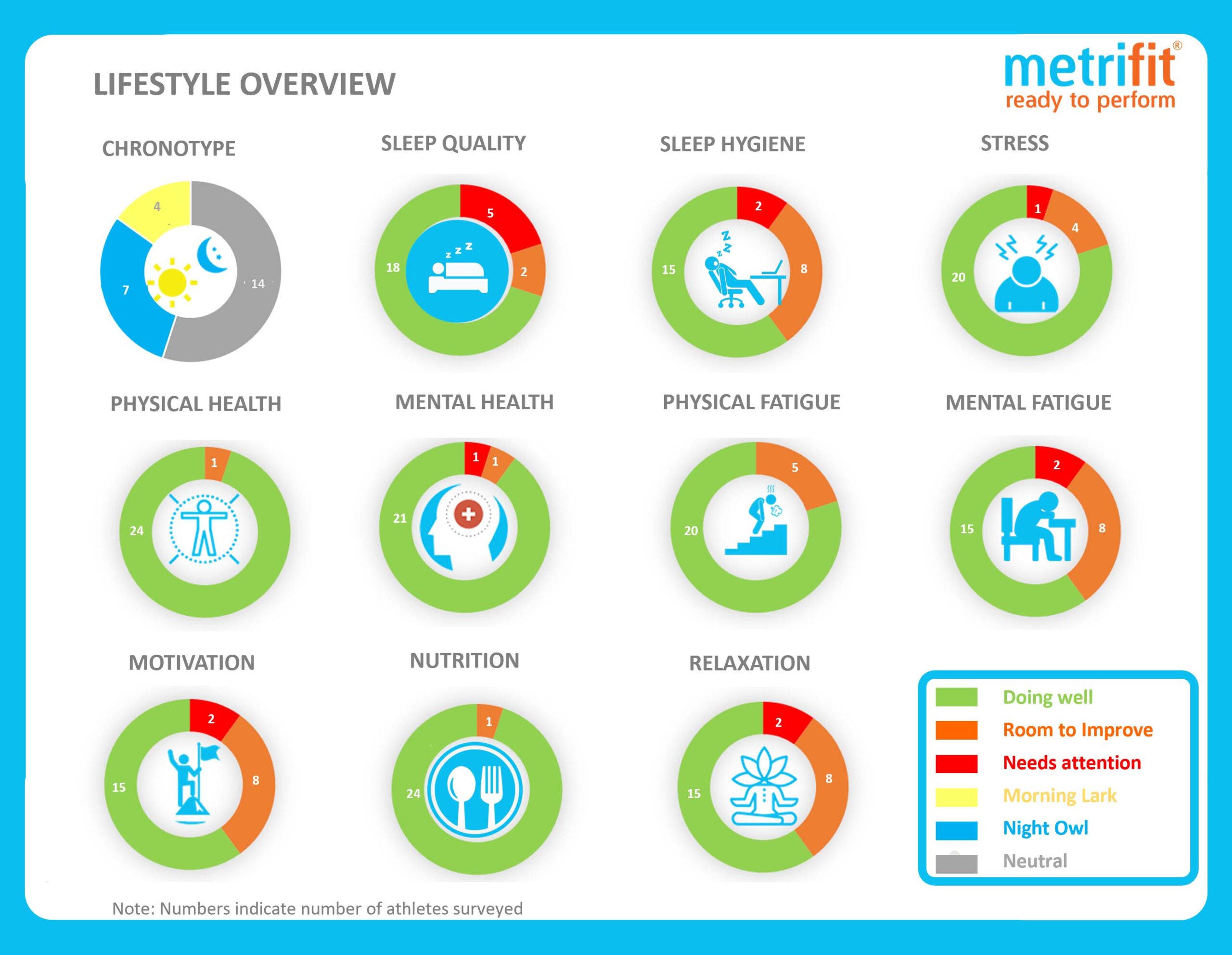 As well as summary information the coach will receive more detailed information for each area and some additional information on key questions in each area such as sleep as shown below.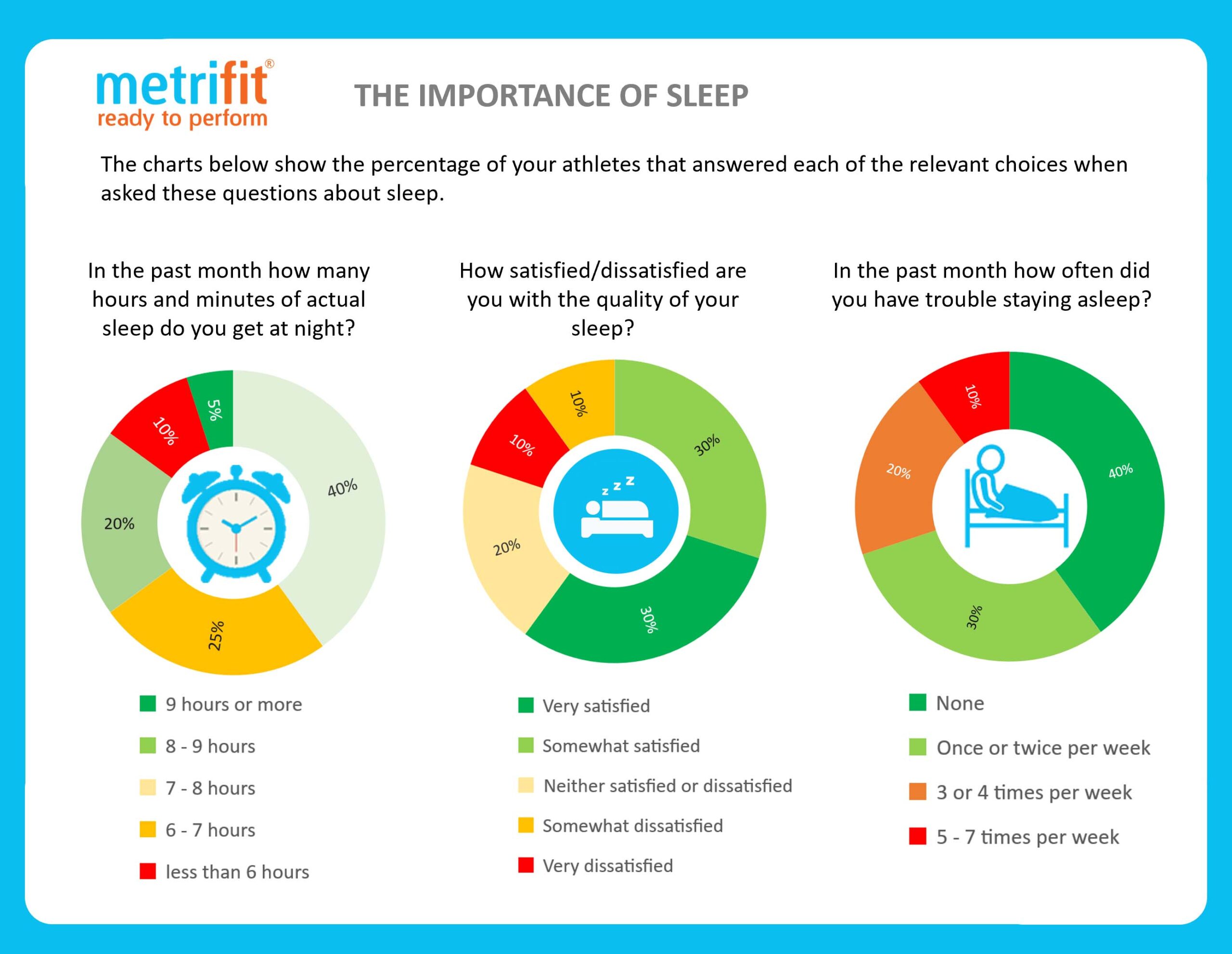 We recommend using the questionnaire monthly. Each month the report will be dynamic and provide new information based on latest research and recommendations for the key areas. You can see more information in this Lifestyle Profiling Overview PDF. To find out more or request a free demo contact us at or click on the button below.