5 reasons to visit our booth (#315) at the CSCCa Annual National Conference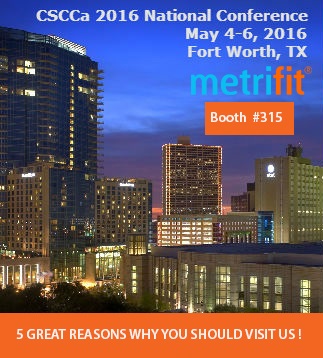 The Collegiate Strength and Conditioning Coaches Association (CSCCa) hosts a national conference each year.
This year this is taking place in Fort Worth, Texas May 4-6, 2016.
This event is designed to keep strength and conditioning coaches current on the latest developments in the field.
Metrifit are attending this year and you can come and visit us at Booth #315!.
We have put together 5 great reasons why you should take the time and come and visit us
1. Brand New product Metrifit Ready to Perform
Do you want to:-
Manage your team in less time with better insight?
Monitor your athletes stress levels, mood state and well-being?
Be notified of deviations from normal behavior/spikes in training load?
Know that your athletes are ready to perform when it matters most?
Metrifit Ready to Perform (RTP) is our new entry level product offering. It offers outstanding functionality at an affordable price that enables coaches to monitor their athletes and take their teams to a new level of performance. This is backed up by sophisticated descriptive analytics and intelligent feedback alerting coaches and athletes to any changes in behavior that may otherwise go unnoticed.
2. See it for yourself: Presentation and Demo
Our COO Mary Glynn who is based in NYC will be at our booth ready to present and demo our available products Metrifit Elite, Metrifit Gold and Metrifit RTP. In the meantime if you want to find out more about our products have a look at our Product Offerings page.
3. Feedback/Testimonials
Hear about the great feedback we have received from key clients across all 3 of our products Metrifit Elite, Metrifit Gold and Metrifit Ready to Perform (RTP) and let us tell you what they are saying and how Metrifit is helping them. Join the other schools that are already using Metrifit … Georgia Tech, University of Wisconsin, San Diego University, Lincoln University, SMU Texas, Loyola University, North Dakota, Mason Patriots, Noblesville High School, and many more.
4. Special Offers
Metrifit RTP's normal selling price is $499 but we are extending our special discount. For the CSCCa conference, Metrifit will be priced $299. That is an amazing savings of $200. For $299, you can have Metrifit RTP for up to 30 athletes per year. To help accommodate budgets and work with you … for the duration of the conference we are offering purchase of Metrifit RTP with a deposit of only $99 dollars with deferred payment of balance in July.
5. Raffles & Prizes
Metrifit is also raffling off 3 Metrifit RTP platforms to 3 lucky conference attendees. Just stop by our Booth #315 and drop off your business card or leave your name and you will be entered into our raffle for RTP.
Remember Metrifit is at Booth #315. Come visit and help your athletes to be ready to perform!